Housekeeping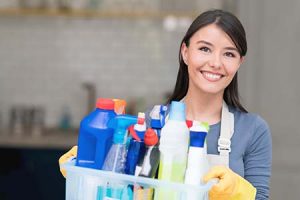 Recently named Best of Groupon, our Housekeeping services are a level above all other providers and this great services is available to all consumers, not just medical clients.
In our time caring for the elderly, we have learned that a clean home is essential to well-being in challenging times. If you are caring for an aging parent at home or from afar, VitalCare's topnotch housekeeping service is the easiest way to make a big difference for everybody involved.
The benefits of a clean home extend beyond aesthetics. Aside from the eliminating harmful bacteria and warding off pests, a tidy home reduces the potential for falls. What's more, research has shown that an orderly physical environment can lead to better dietary choices.
More importantly, a clean home is proven to boost social-emotional wellbeing. If your parent is struggling with Alzheimer's or feeling clouded, an uncluttered space can improve cognitive functioning. Finally, a clean home makes it easier for your parent to receive visitors and maintain a healthy social life.
As you can see, at VitalCare, we take housekeeping seriously. For us, caring and cleaning are part of helping our loved ones stay happy and healthy at home. Let VitalCare brighten your parent's home today. You'll be happy you did.
Absolutely incredible job!
My fiance and I just bought our first home and I wanted to have the house cleaned before we begin moving in, especially since the previous owners were heavy smokers (nicotine-stained walls and a smoke smell throughout the house). I had a lot of cleaning services to choose from on Groupon and I am so glad I went with VitalCare! Making an appointment was quick and easy and the office manager, was so friendly and helpful. She set up my cleaning in a quick 3-minute call and followed up afterward to make sure I was happy. The Housekeeper did the cleaning and also followed up with me to explain the work she had done. She did an absolutely incredible job! The house looks and smells so much better and she even scrubbed the walls twice to undo some of the smoke damage. I seriously can't recommend VitalCare enough and we'll be using them again anytime we need a cleaning! Thank you!
Jillian C.
Come back again!
I loved their job! I want them to come back again and again and recommend them to everyone!
Jeanne B
So impressed!
I am so impressed by this company! Everyone I was in contact with was so friendly, personable, and so helpful. Our home is so clean and I love that they use all natural cleaning products. I highly recommend them!
Elizabeth N.
AMAZING!
AMAZING! VitalCare is now my go to cleaning company! They were professional and courteous on the phone. The housekeeper they sent was wonderful! When making the reservation, I was asked what rooms I wanted to focus on, mine was the master bath. It was literally a "WOW" moment when I went to look at it after she finished. She far exceeded my expectations.
Pam B.
VERY thorough cleaning
VERY thorough cleaning – everything was dusted, vacuumed, wiped, beds made, etc. Would definitely use again.
Megan W.