Massage Therapy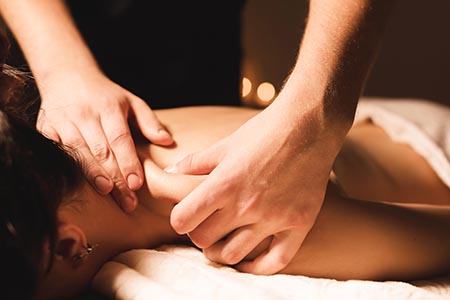 Our treatment rooms are located within our VitalCare office. It is a healthcare setting and we do not accept tips for massage sessions.
Our lives are so busy and connected, most of us can't even remember the last time we had an hour of downtime. At the bottom of our constantly growing to-do list is the box for our care and well being that often remains unchecked. Massage can be a wonderful therapy to add to your self-care regimen.
Schedule Appointment
The benefits of massage therapy are many and varied. Massage can be an excellent tool to help a person wind down, relax, and restore their body and mind after a busy and stressful week. It can also be a wonderful addition to a pre/post sporting event to help relieve tight, sore, or injured muscles. Massage can also assist a body in recovering post-surgery or make it easier for a mama to relax throughout her pregnancy and after birth.

No matter your massage needs, our skilled therapists are licensed through the state of Colorado. Each typically has years of experience to bring to the table and whatever your needs, will help discern the best treatment for you. With their unique specialties and touch, the therapists at VitalCare are ready to help you put self-care first.
| | |
| --- | --- |
| Session Length | Service Fee |
| A 60 Minute Massage | $80.00 |
| A 90 Minute Massage | $120.00 |
All massage services include gratuity, tips are not accepted per agency policies.
Please call 888.664.4222 with questions and book with the "Schedule Appointment" below.
VitalCare offers massage therapy services to people of all ages and it can be accessed through private pay or the CES, SLS and CLLI waivers.
---
She is an answer to my prayers
The quality of the therapeutic massage was beyond my expectations. Meagan provided exceptional individualized massage to my numerous problem areas with the explanation of the rationale for her interventions. I now know what a truly therapeutic massage is (vs. my previous hot stone pamper massages). She is an answer to my prayers to aid in recovery after an auto accident.
Carolyn Y
Prenatal Massage
I saw Meagan at VitalCare for a prenatal massage at 38 weeks pregnant. Not only was the facility clean, bright, and welcoming, but Meagan was an absolute joy to be with. She made the whole process extremely comfortable, listened to my requests and needs, and did a wonderful job with my massage. She is thoughtful, thorough, and very skilled. I wouldn't hesitate to recommend her to anyone, and I definitely intend to return regularly.
Lindsay T.
Outstanding service!
Meagan and her team of therapist are outstanding.  I love booking online and I have seen multiple therapists, all have been excellent.  I recommend VitalCare to all of my friends and family!
Scott G.
Fantastic!
Meagan is fantastic! I try to see her every week. I am having fewer headaches since I started seeing her and my shoulder mobility is much improved.
Karin D.
Sports Massage
I have been working with Meagan for over two years.  She has literally kept me on the field playing soccer!  Since working with Meagan, I have not suffered an injury, prior to working with Meagan, I was sidelined 2-3 times a year.
Matt D.
Surpassed my expectations!
Meagan again surpassed my expectations with her expertise in her ability to help release very tight muscle groups resulting in increased range of motion and decreased pain. She listens to feedback and integrates the information into her therapy.
Carolyn Y.
Schedule Appointment